It's been a while since I've been using Clubhouse and I think it's a good time to impart some Clubhouse app tips and tricks. Since it first hit the market, the Clubhouse app has added new features and refinements to make it a better experience. If you've just signed up for Clubhouse, click on the link below to learn the basics of Clubhouse.
So here are the top Clubhouse tips and tricks you should know to become a Clubhouse pro.
1. Join Clubhouse Without An Invite
This ought to be the biggest hack of them all. You can join the invite-only iOS-exclusive Clubhouse app without an invite if you know someone who is already on Clubhouse. If you're friends with someone already using the app, and you're on each other's contact list, they can let you into Clubhouse without an invite.
If you're already on Clubhouse and ran out of invites, you can ask your friends to sign up and let them in. When one of your friends signs up without an invite, you'll be notified and asked if you want to let them in. You can access this notification from the bell icon on the app's home screen and welcome them to the app.
We're not sure if this feature will work for users who haven't synced their phone contacts with Clubhouse.
Pro Tip: Even if you don't know anyone on the app, just sign up for it and reserve a username. Since Clubhouse is still growing, there are better chances for you to get your preferred user name.
2. Add A Bio And Social Media Accounts
The Clubhouse app is a voice-only social media but you can do a lot more through the app. You can add a bio and link your Twitter and Instagram accounts so that your Clubhouse friends can find you on other platforms too.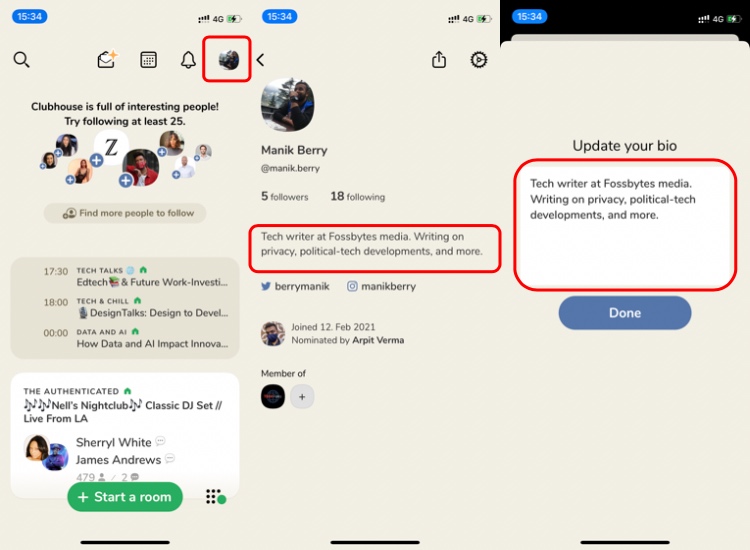 To add a bio and link your social media accounts to Clubhouse, open the Clubhouse app > Tap your Profile > Add bio. Right below the bio button, you'll find the buttons to link your Twitter and Instagram accounts.
3. Set A Clubhouse Profile Picture
The makers of Clubhouse have emphasized real names and pictures. While I've myself seen several profiles with Brad Pitt as the image, I'd encourage you to go with a real picture. It'll look better and add more credibility when you decide to host a room or talk in a Clubhouse club.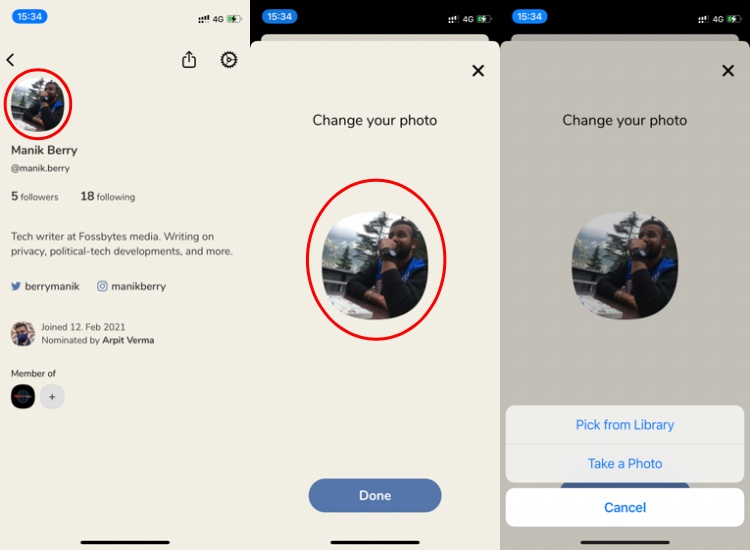 To set a profile picture on Clubhouse, open the app and tap the profile icon on the top right side > tap profile image icon > tap the image. Now you can either take a new photo or choose from your phone library.
Pro Tip: When you link your Instagram or Twitter account, the app will let you import a profile picture from there. It is always good to have similar profile pictures across platforms.
4. Refine Your Clubhouse Interests
When you sign up for the Clubhouse app, you can pick some topics of interest for the app to make relevant recommendations. One of the best Clubhouse app tips and tricks is to change Clubhouse interests. You can select more topics or narrow down your recommendations however you want.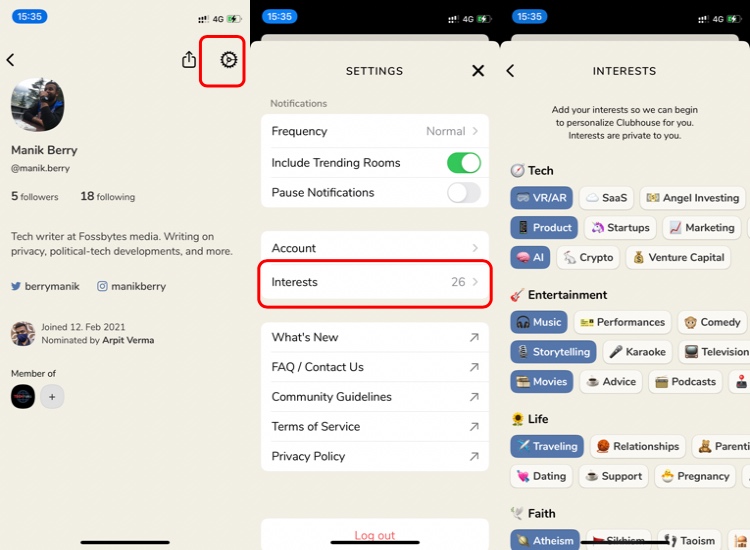 To change your Clubhouse interests, open the app and tap on your profile button. Now tap the gear icon to go to settings > tap interests. You can update your interests from here.
5. Join A Club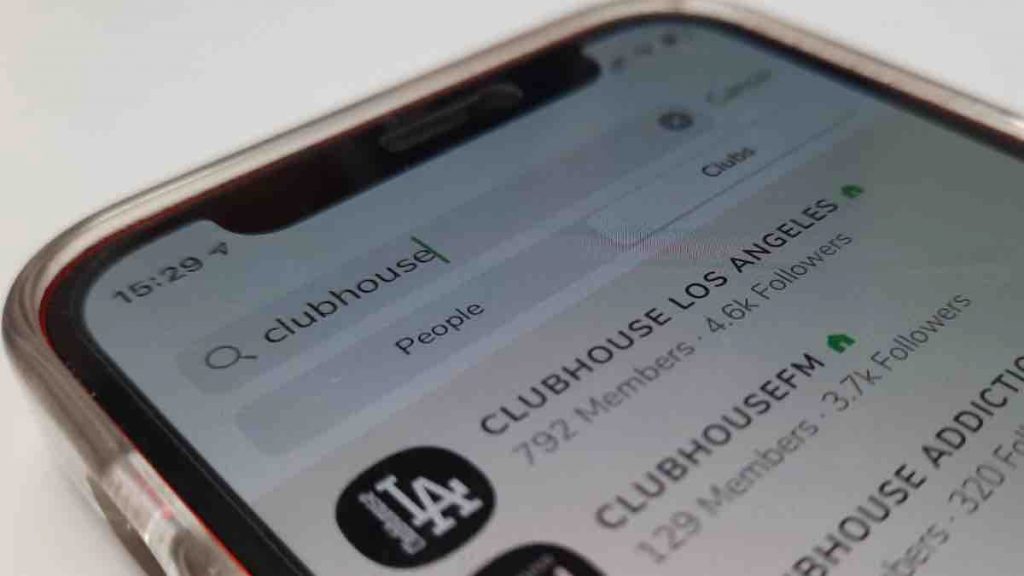 That's what Clubhouse is meant for. There are several clubs in the Clubhouse app and you can find them in the search section. You can follow new clubs, start your own club, or become a member of various clubs if you're an active participant.
If you want to know more about how to join a club or even start a Clubhouse club, give the article below a read.
6. Search For People In Clubhouse Rooms
When you enter a packed Clubhouse room, you may try to look for a familiar face, just like we do in real life. In order to do that, you can use the search bar in a Clubhouse room to look for your friends in a conversation.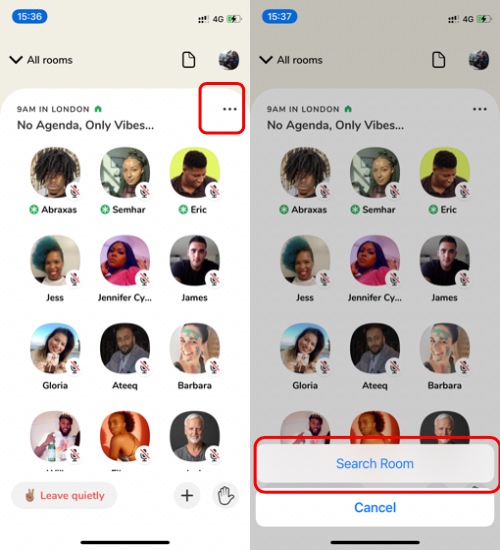 To search Clubhouse room when you're in a room, tap on the three-dot menu on the top right side > tap Search room.
7. Start Private Chat With A Friend
You can use Clubhouse to have a casual audio chat with one or more of your friends. Just swipe left from the Clubhouse home-screen and you'll see the friends that are available for chat.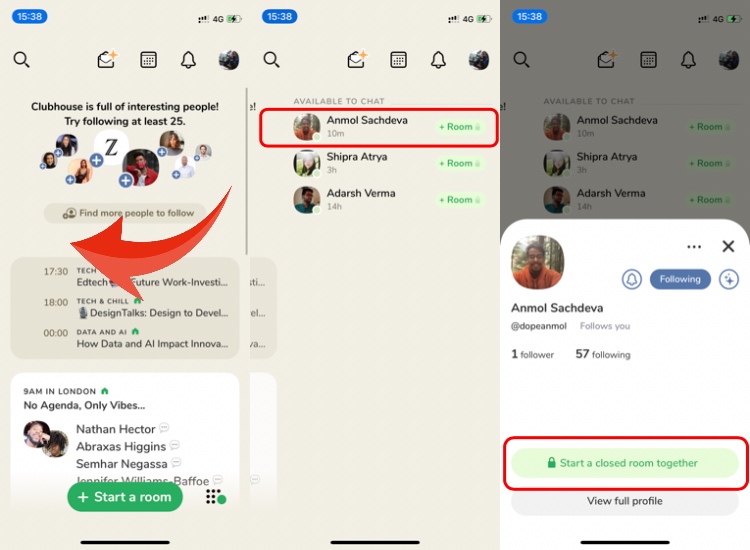 Tap on the person you want to chat with and then tap 'Start a closed room together.'
8. Hide A Room Or Club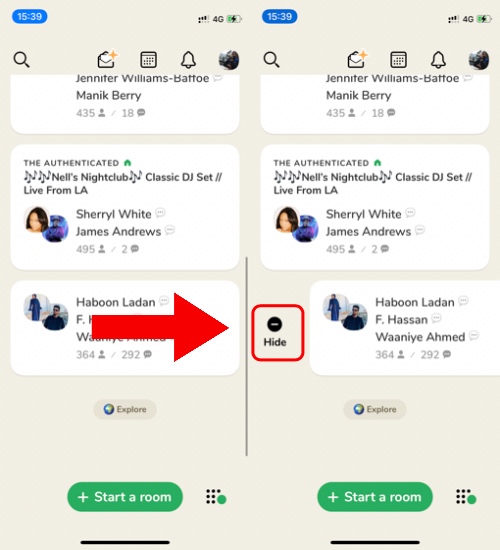 If you don't want to see a room or a club on your Clubhouse home screen, you can get rid of it. To hide a Clubhouse room, swipe right on the room from the app's home screen. You can also undo this if you mistakenly hide a room.
9. Manage Clubhouse Notifications
Since there's no way to listen in on a missed room, you may want to get notified about a room or club that interests you. But then there's a chance that Clubhouse may end up pinging you more than usual. In our Clubhouse tips and tricks, we've got you covered on how to manage your Clubhouse notifications.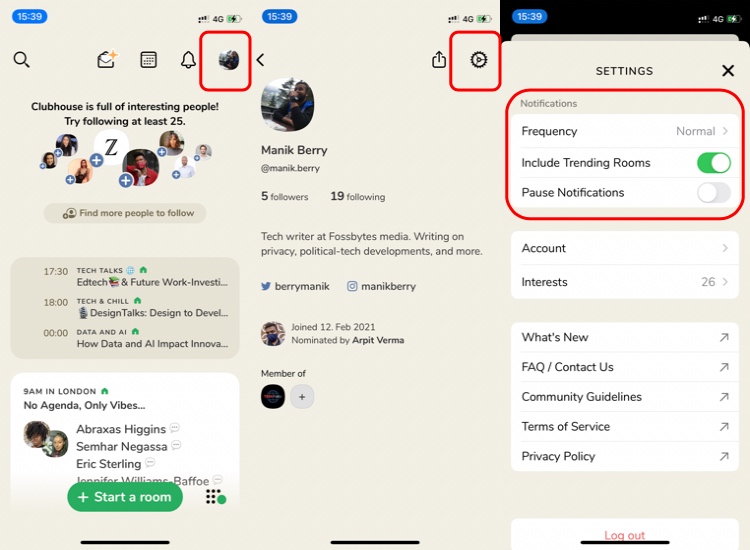 To manage your notifications, open the Clubhouse ap, and open your profile. Now tap the gear icon to get to settings and check the 'Notifications' section. Here, you can adjust the frequency of notifications, alerts about trending rooms, and pause notifications if you don't want to be disturbed.
10. Block Someone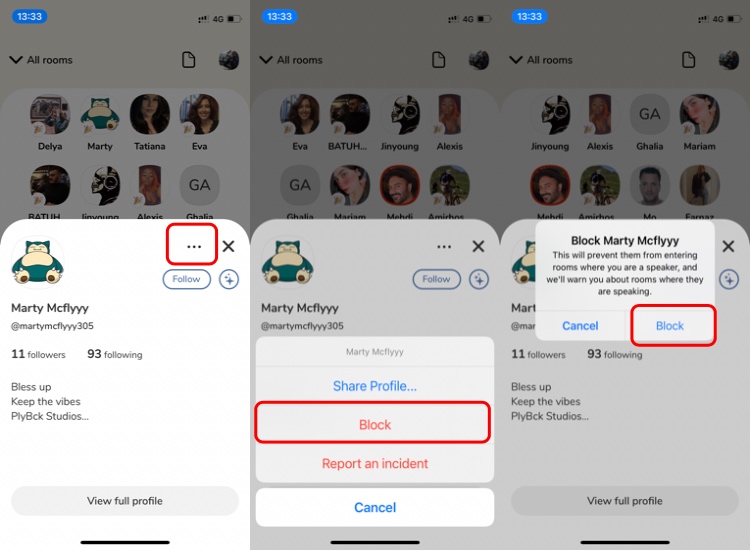 You may come across disturbing elements on Clubhouse, pretty much like every other social media. Here too, you can block such people and not come across them again. To block someone in a Clubhouse room, tap on the person's profile > tap the three-dot menu > tap Block and then confirm Block.
Once that is done, the blocked person won't be able to enter the rooms you're hosting. You'll also get a heads up if you're entering a room where the blocked person is the speaker.
About Clubhouse App Tips And Tricks
Rounding up, we hope you learned something new from our Clubhouse tips and tricks list. There's much more you can learn once you start using the app. Do let us know in the comments what you think about Clubhouse and the neat little features in this article.
The post 10 Best Clubhouse App Tips And Tricks: All You Need To Know To Be A Pro appeared first on Fossbytes.