Long before GMC Hummer EV was revealed, EV enthusiasts were comparing it to both Tesla Cybertuck and Rivian R1T. However, as General Motors unveiled the electric Hummer along with its specs, it seems that the real competitor of this pickup truck is indeed Riviant R1T.
Whether it be the outer appearance or the performance figures, both the electric pickup trucks have lots of similarities. Hence, it created discord among EV fans for which is the better one?
To resolve this query, we brought you a head-on comparison between GMC Hummer EV and Rivian R1T.
However, before we move ahead here is a brief overview of both the electric vehicles we have on the tables today.
Also Read: GMC Hummer EV Unveiled And Here's Everything You Need To Know<
GMC Hummer EV
As the name suggests, it's the electric version of GM's iconic pick-up truck Hummer. In the quest to dominate the modern EV industry, General Motors has recently introduced Hummer EV. It's available in four different trims with price starting from $79,995 to $112,595.
However, the first batch of production models will hit the market in fall 2021.
Rivian R1T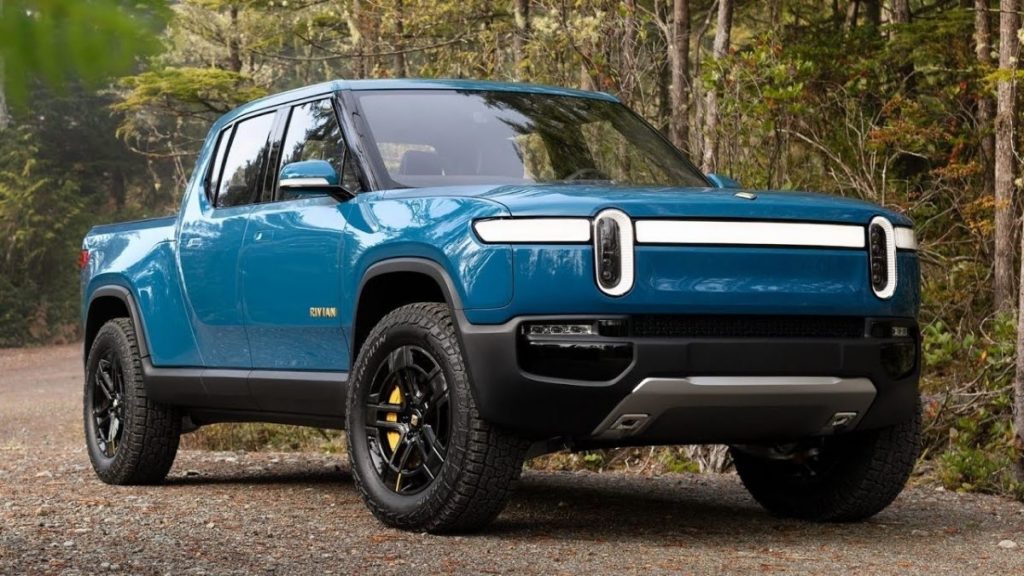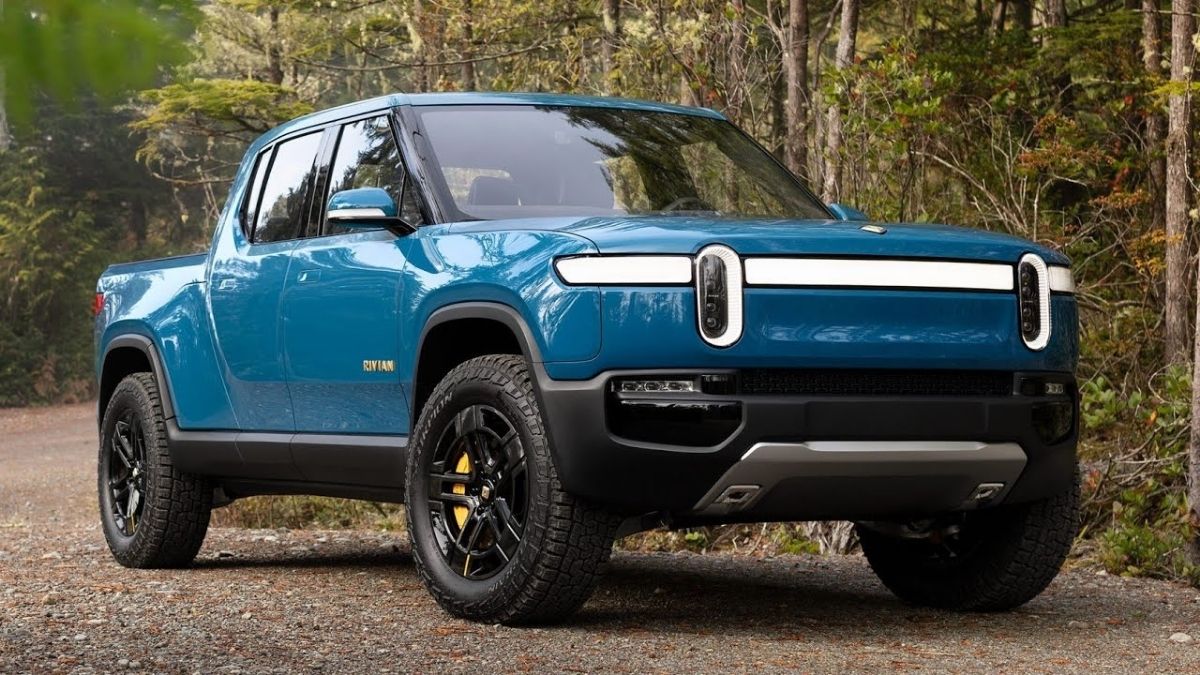 Rivian R1T is an electric pickup truck from the California-based EV startup Rivian. It might be a product of a lesser known brand but it has wooed many EV enthusiasts as well as established automakers through its impressive specs.
There are three variants of Rivian R1T and its price starts from $69,000 and will go as high as $100,000 (est.).
Initially, the electric pickup truck was scheduled to launch in late 2020. However, the date has been shifted and we now assume it will arrive sometime in mid-2021.
Also Read: Why Electric Hummer Rivals Rivian R1T?
GMC Hummer EV vs Rivian R1T
Though both electric pickup trucks have several variants, we'll be comparing only the top end trims.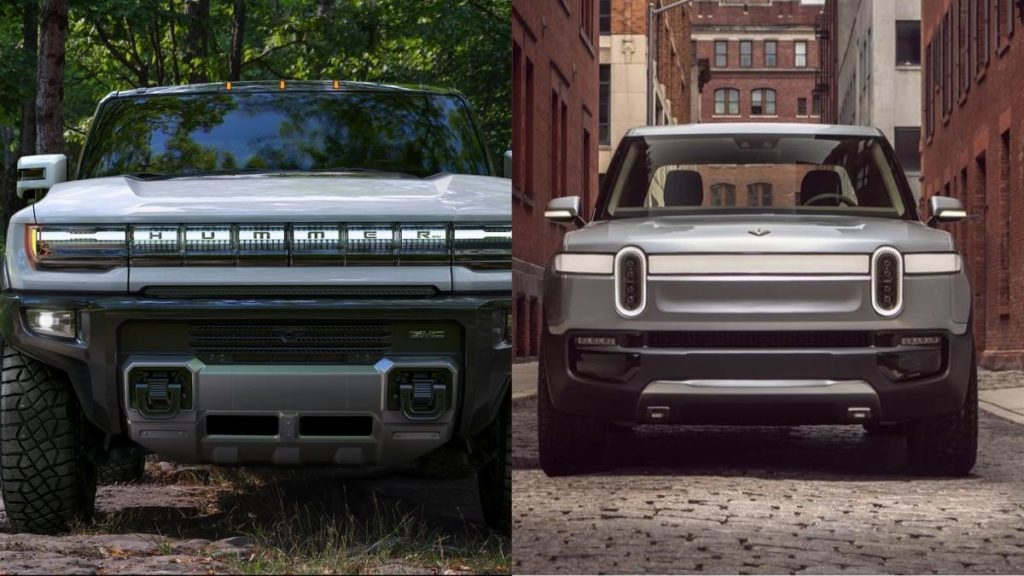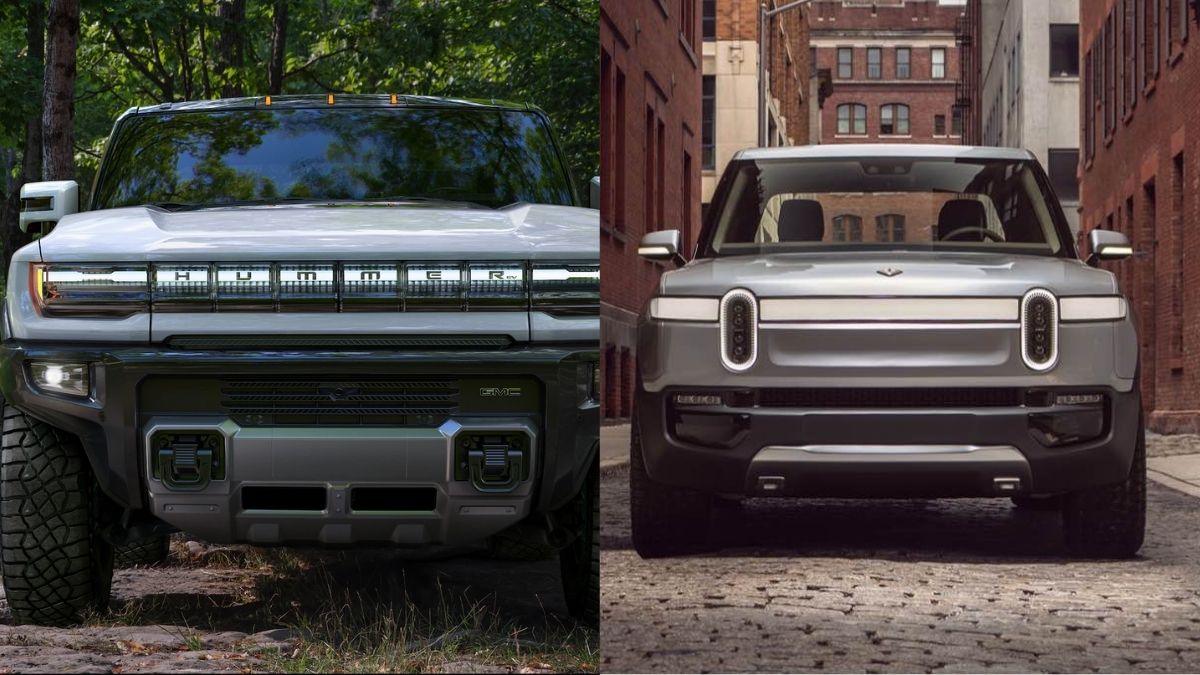 Performance
| | | |
| --- | --- | --- |
| | GMC Hummer EV | Rivian R1T |
| Power | 986.3 BHP | 739.7 BHP |
| Torque | 15,591 Nm | 1,123 Nm |
| No. Of Motors | 3 | 4 |
| Acceleration | 0 to 60 mph- 3 seconds | 0 to 60 mph- 3 seconds |
Though in terms of power and torque, Hummer EV might be a winner here but when it comes to acceleration Rivian R1T is as quick as its counterpart. In addition, there is a quad-motor system in Rivian R1T whereas in electric hummer you get a tri-motor system.
However, one of the biggest differences that one can point out is the humongous torque that Hummer EV could produce. It's unbelievable and way too much compared to Rivian R1T.
Nevertheless, Rivian R1T has an impressive towing capacity of 11,000 lbs which is fair enough considering the segment.
Electric Range And Battery
| | | |
| --- | --- | --- |
| | GMC Hummer EV | Rivian R1T |
| Battery Capacity | 200 kWh | 180 kWh |
| Electric Range | 350+ Miles | 400+ Miles |
| DC Fast Charging | Yes | Yes |
Despite a bigger battery, GMC Hummer EV lags behind a bit in providing a longer range. It seems the automaker has utilised much of its energy in enhancing the performance of the pickup truck.
When it comes to electric vehicles, electric range is one of the most important factors. Here, Rivian R1T is clearly a winner by 50 miles. Hence, we can say Rivian is a better choice if efficiency is your priority.
Features
Both electric trucks have special capabilities and are loaded with features.
If we look at Rivian R1T then its quad-motors have the ability to send instant torque independently to each wheel, hence, providing the maximum traction in extreme off-roading conditions. Besides, you can take R1T inside shallow water bodies with depth up to three feet.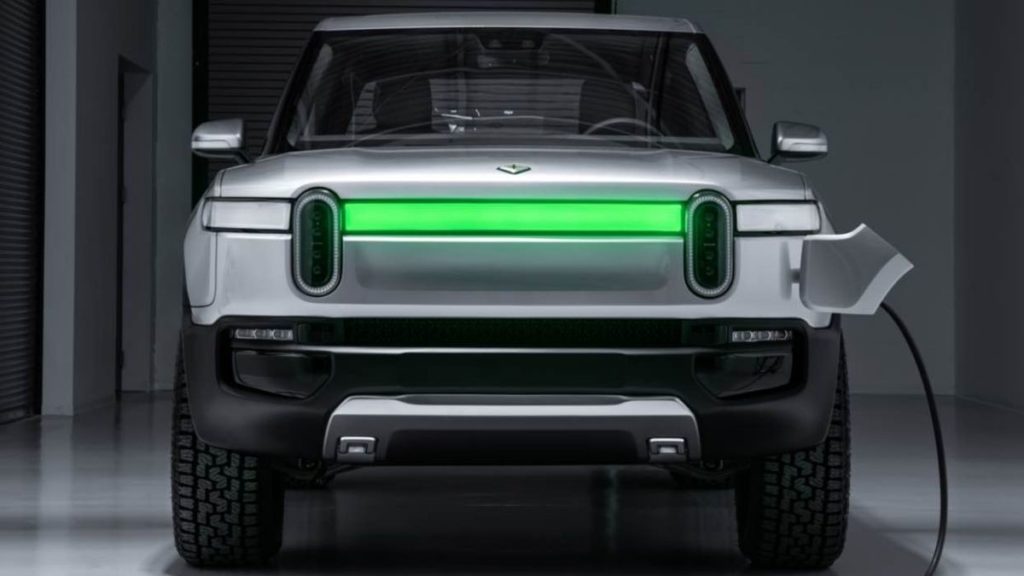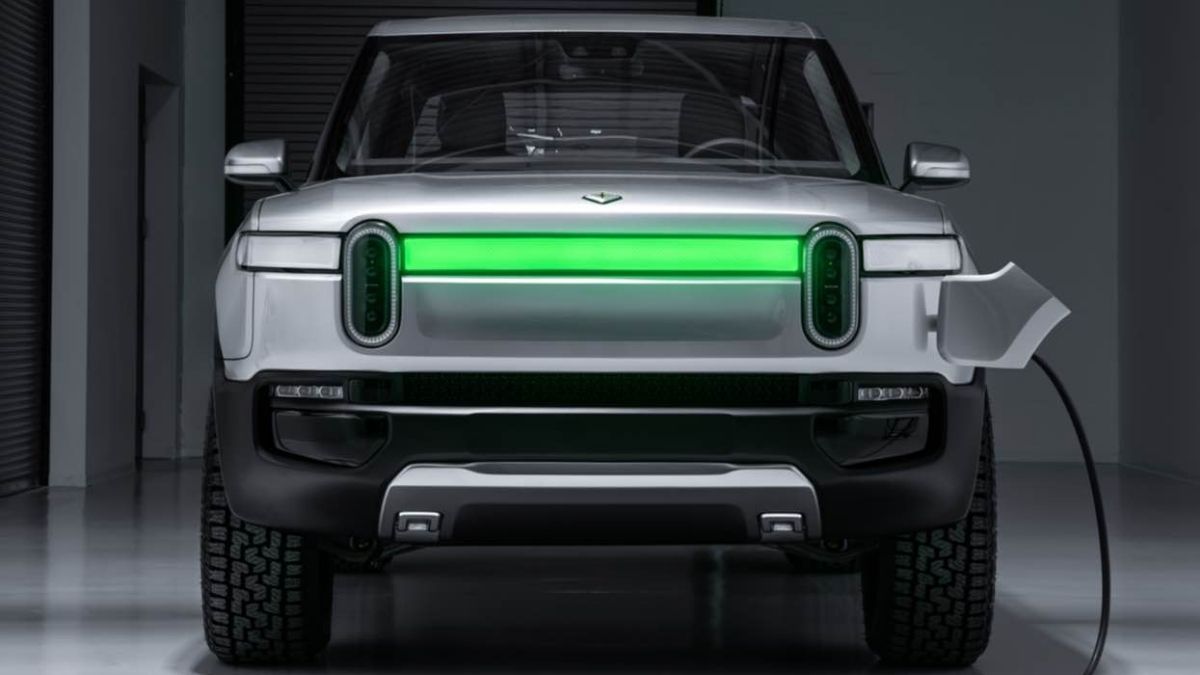 It's also one of the most uniquely designed vehicles with lots of aesthetic elements like its stadium headlights and green bar charging indicator lights.
On the other hand, Hummer EV is pretty impressive in features as well. In fact, the electric Hummer can easily surpass any pickup truck in its segment if we compare only features. General Motors made sure to live up to its reputation and incorporated features like CrabWalk, Extraction Mode, Ultravision Cameras, driving assistance feature SuperCruise, and much more.
One of the most impressive and unique features is the CrabWalk that allows the vehicle to move diagonally. Furthermore, Extraction Mode lifts the sprung mass of the vehicle up to six inches and ultravision cameras provide eighteen different underbody visions.
Which One Should You Buy? GMC Hummer EV Or Rivian R1T
It's not an easy task to choose between Hummer EV and Rivian R1T as both of them are very impressive. However, it mostly depends on preferences of an individual.
Considering the decaded century-old legacy of General Motors, we can say you can be rest assured of the ride quality, comfort, and the performance of the Hummer EV. In addition, GM has one of the most widespread and strong service network.
In contrast, Rivian is a newcomer in the market with R1T and R1S (electric SUV) will be its first products. However, Rivian R1T is quite impressive if we look at the on-paper specs and seems worth considering. Also, it's better in terms of electric range and also the price of is relatively lower than electric Hummer.
In short if electric range and a few thousand dollars doesn't bother you, then go for GMC Hummer EV, otherwise Rivian R1T is a good option.
What do you guys think? Do share your opinions in the comments section below.
The post GMC Hummer EV Vs Rivian R1T: Which One Is A Better Electric Truck? appeared first on Fossbytes.